How to Fly a Horse was written by Kevin Ashton. He is credited with coining the phrase "internet of things" and was instrumental in the development of RFID (Radio Frequency Identification) technology. The book is about creativity, invention and discovery. The book has many takeaways for the small business owner.
Takeaways for Business Owners
First, creativity and innovation requires real work. Coming up with new ideas is important, but if these ideas are not acted upon, executed and implemented, then change and innovation has not really taken place.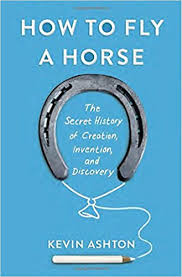 The book says we all have the capacity to be creative. Many companies seem to believe that great ideas can only come from the owner, CEO or leadership team. A recent survey by Inc. Magazine asked 500 CEOs "where does your company get most of its ideas for new products and services"? Employees were at the bottom of the list. Employees can be a great source of creativity, but are apparently under-utilized.
Creativity and innovation can take some time. The book says the process is more like a maze than a straight line. This means there could be some setbacks in the development of a new idea. Changes and refinements may need to be made. This is one of the key reasons why change and innovation are real work.
Finally, Kevin writes "creativity must be structured by process". It is not enough to just have ideas bouncing around all of the time. A process should be in place not only to help us create new ideas, but also to test and implement the ideas. These ideas may be in the areas of new products, services, processes, methods or business models.
Do you need to change and innovate? Read about our innovative System of Pi™ (Profitable ideas) and contact us today!