Conder Business Solutions helps companies solve their unique problems by consulting and coaching with business owners and organizational leaders. We make the unclear clear and bring order from chaos by utilizingThe Optimum SolutionTM and The System of PiTM (Profitable ideas) methods. This innovative Oklahoma small business consulting, growth and investment service is headquartered near Tulsa, Oklahoma, and was founded and is owned by Greg Conder.

Pedigree of Greg Conder

Since 2005, Greg has coached and consulted with business owners representing many types of businesses including manufacturing and construction as well as service industries like engineering firms, attorneys, insurance agencies, plumbing companies and marketing firms. Greg has also consulted with a few non-profit entities. See our testimonials.
Greg owned a successful manufacturing company for about 12 years and sold it in 2004. The company was a metal fabrication company that did contract work as well as developed and marketed some proprietary products.
He also has experience working for such companies as Bell Helicopter, Boeing Electronics and McElroy Manufacturing. These experiences led to a deep understanding of planning, time management and employee management.
Greg is educated in Industrial Engineering and Management and is a Licensed Professional Engineer (P.E. – State of Oklahoma)
An excerpt from the Industrial Engineer's handbook:
"Risky decision making is at the very heart of industrial engineering because of the nature of this engineering discipline. Design, operation or management activities in manufacturing or service organizations all require decisions where the future is unsure. As we see through the window of the future but dimly, we must be prepared to make the most of our observations".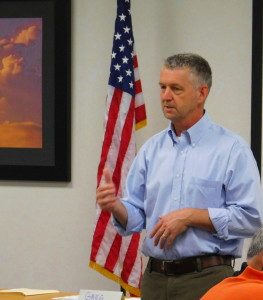 Greg is also a certified business coach from the Center for Coaching Certification.
Conder Business Solutions believes in giving back and helping those in need. We proudly support a "Back to School" mission through New Heights church in Owasso, OK that offers children free back packs, school supplies and haircuts.
We support the Beautiful Dream Society, an organization in Oklahoma City, OK that works to combat human trafficking.
Also, we participate in Junior Achievement of Oklahoma activities. JA teaches kids skills in work readiness, entrepreneurship and financial literacy.