Recently, I participated in a Junior Achievement (JA) event called the JA Investor Challenge.  JA is an organization that teaches young people skills in work readiness, entrepreneurship and financial literacy.
The JA Investor Challenge is designed for high school students to learn about the stock market through an exciting "hands-on" simulation.  This gives them a chance to experience the excitement, risks and rewards of stock market investing.  It also helps them with their critical thinking and team work skills in general.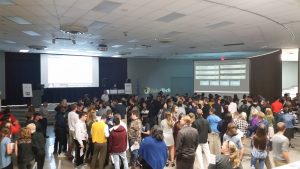 I was honored to mentor a team from Augustine Christian Academy.  They were extremely smart and outstanding young people.
The simulation represents several days of trading. Each "day" represents about 90 seconds of real time.  Around 20 different stocks of made-up companies are available to buy and sell.  As the simulation runs, data is given on each stock's trend and price movement. Every 15 minutes or so, the simulation is stopped for breaking economic and political news.  The goal is to determine how this news will affect stock prices.
About 200 kids participated in the event.  It was great fun while also helping them learn something about saving and investing.  I encourage you to find some time and perhaps some money to support Junior Achievement of Oklahoma