Businesses and organizations need creativity and innovation to solve problems and develop ideas for new processes, methods, services and products. At this half-day workshop, we will look at business titans such as Apple, Pixar and others for creativity and innovation concepts that can be scaled and modified to fit any size and type of business or organization.
Outline of the Workshop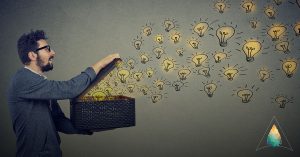 Overview of a System for Creativity and Innovation
Focus – what area of our organization needs creative ideas?
Attributes of the idea generation team
Sources of inspirational information
Unique methods to utilize the inspirational information
Idea prioritization techniques
Basics of vetting and developing an idea
Basics of idea implementation
Hands-on activities for idea generation
What is the Status of Your Organization?
Does your organization embrace creativity or does it protect the status quo?
Are your creativity and innovation processes effective?
Watch this 3-minute video to help you answer these questions.
Presenter
Greg Conder, P.E., of Conder Business Solutions will be presenting the workshop in partnership with Arrowhead Consulting. Arrowhead Consulting specializes in project management, leadership development and organizational effectiveness.
To learn more about the workshop and register, please click here.