Of course, the simple answer is from customers.  However, having excellent financial records can help you understand in much more detail where your revenues and profits come from.
Not all customers are created equally.  It would be helpful for you to know what each customer provides to your business in terms of revenue and percentage of total revenues.  This might give you a sense of which customers are most critical to your business.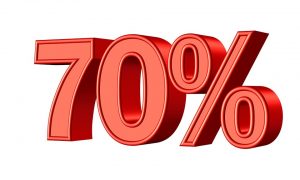 You could also group customers by industry, size, geography or other metrics.  This may help you identify groups that are important to your business.
Still another piece of critical information is knowing exactly which products and services these customers and groups are buying.  This will help you understand what is working for you and trends in the market place.  You may want adjust your marketing efforts based on this information.
You should also apply expenses to these customers and groups to see which are the most profitable.  The highest revenue-generating customers and groups are not necessarily the most profitable.  In extreme cases, you may learn that you need to fire a customer.
Another word of caution.  A small revenue and profit-producing customer today could grow and become more critical to your business in the future.  Take some time to review that possibility for those customers currently at the bottom of your list.
Accurate financial records are critical and useful in managing a business.
Do you need help in understanding your financial situation?   Contact us today!